Broker-focused CRM
Every component of our CRM system is developed for the need of a Forex broker.

Smart Dashboard
A dashboard that gives you a glance at your brokerage with all the info you need.

Built for Automation
Increase performance with automation tools & save time for more efficiency.
Learn Liquidity Feeds
A new generation of forex CRM, client cabinet and back office software. State-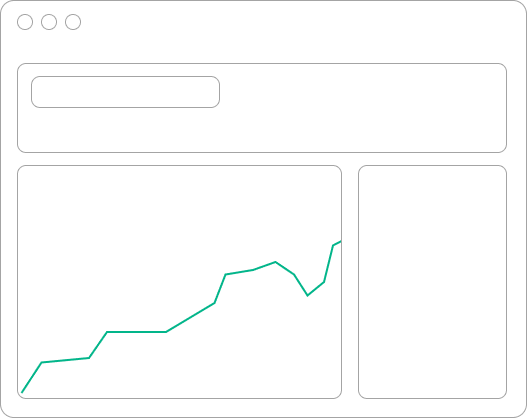 About Liquidity
According to Forex literature, the term liquidity indicates a quantified amount of floating capital in the Forex market at a certain period. In other words, it concerns the number of Forex traders available to attend trade corresponding to their trading volume.

Being a brokerage & tech solution provider to Forex business; Forex CRM aims to facilitate its clients in every aspect to succeed in this sphere. Our service contains the best MT4/MT5 liquidity pool which is quite efficient to adjust any business design. This unique technology sets an end-to-end connection bridge between multiple brokers through MT4/MT5 liquidity provider server ensuring real-time data flow & flexibility in trading.

Beneficiary Aspects
Forex CRM contest solution & its control process takes place with an exceedingly helpful manner. There's numerous potentiality to mark in this provision. Check out some key points for now.

Extensive functionality
We have worked out the system on such a scale that Forex Brokers can associate with an impressive volume of multi-asset liquidity providers & represent their combined financial functionalities directly into the trading platform. Also, it is loaded with smart brokers' analytics for extracting relevant data to fulfill the monitoring & report generation purpose.

Multi-tasking Module
Forex CRM makes it assured that a potential brokerage system can provide numerous approaches to access liquidity in the highly sensitive Forex market. In extent, comprehensive features like; smart API arrangement, MT4/MT5 bridge to bona fide liquidity providers & specially organized trading accounts will transmit ultra-competitive & risk -free business execution experience in the Forex arena.

Diversified facilities
If you carry out this connectivity solution, the traders will be opportune with immediate updates about price deviations, reasonable limits to adjust leverage & much more. This system can pull real-time reports on existing trading activity on the need of a particular trader & offer competitive spreads to secure a gigantic profit.

Unrivaled trading condition
You can run any brokerage model with maximum convenience with no conflict of interest at all. Additionally, you will get close assistance from our professionals in optimizing feeds, commissions, spreads & price streams.